The focal point of Mirador torre Glòries is the building's 30th floor. From the highest point of Torre Glòries, you'll find the very best panoramic view of Barcelona, at a height of 125 metres, with the entire city at your feet. From a distance, you will feel closer than ever to the life that shapes the city. A complex and interconnected life that you can only discover when you visit Mirador torre Glòries.
The Observation Deck is a dome with a unique architectural design, which is much more than a vantage point. A privileged space you must visit if you love architecture, urban planning and Barcelona.
An extraordinary location
The central location of Torre Glòries allows its visitors to see Barcelona in all directions. From the 30th floor, you will have a 360° view of the city and be able to make out the different street patterns of neighbourhoods like Gràcia, Horta and Sant Andreu. A diversity that reminds us of when they were independent villages and that takes us a little closer to the history of the Catalan capital.
The Observation Deck provides a unique visual journey of the skyline of one of the most important European capitals of the moment. North, south, east and west of the city from a single point. You will see a panoramic of Barcelona from the place that Ildefons Cerdà envisaged as the centre of his urban plan!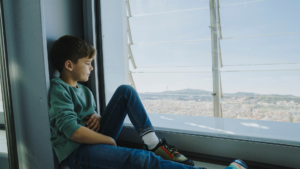 A panoramic view of Barcelona from the dome of Torre Glòries
The lift will take you to the top floor of the iconic skyscraper in just a few seconds. A unique experience thanks to the glass ceiling of the cabin, which will make you feel the speed of the ascent. When you reach your destination, you will be amazed by the incredible transparent dome with its oval ground plan.
Thanks to the architectural design of the space, you will feel as though you are floating in the sky of Barcelona. A sky that is full of life with the movement of the birds, clouds, light and reflections. You will feel as if you can touch it, at a height of 125 metres!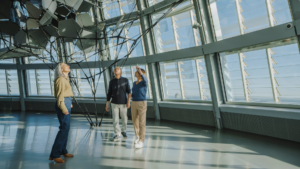 Mirador torre Glòries has become the best place in the city from which to admire and capture a panoramic view of Barcelona. As well as enjoying the views, you will discover a unique observatory between the city and the sky! Let yourself be amazed!