Enjoying a summer sunset is always a good plan. The light of the setting sun at this time of year is quite a spectacle and if you find a great place to contemplate it with panoramic views of the city, you'll see it shine like never before. On these hot days, the sunsets in Barcelona are longer and the colours are more intense. It's pleasant to welcome the cool of the evening and say goodbye to the high temperatures of the day.
Finding a quiet place to watch the sunset in Barcelona is no easy task, even less so in summer when the city is full of visitors. Enjoying the sunset with the best views of Barcelona is now possible at Mirador torre Glòries. End the day with spectacular views from Mirador torre Glòries!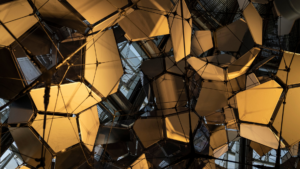 Barcelona's sunsets
like never before
Visiting the top floor of Torre Glòries will immerse you in the magic of the sunset while you contemplate Barcelona from on high… Imagine the golden light of the evening reflected in every corner of the great dome. It's a visual spectacle that neither you nor your camera can miss. An unbeatable 360° view of Barcelona!
If the 125-metre-high Observation Deck isn't high enough for you, you can always climb a little higher and explore the installation suspended from the top of the dome, Cloud Cities Barcelona. It is an interactive work of art by Argentinian artist Tomás Saraceno, covering a total surface area of 130 m³, where you can play, climb through and re-think cities of the future from more than 130 metres above the ground.
Enjoy the Mirador torre Glòries experience at sunset and turn a typical summer evening into a moment to remember. See Barcelona like never before!