Finding quality time with the youngest members of the family during the holidays is no easy task. And what's even harder is choosing from the enormous range of Christmas activities for kids and getting it right. The most magical time of year can become your worst nightmare if your home is filled with boredom and an absence of fun. So, come and visit Mirador torre Glòries this Christmas and enjoy all the activities we have in store for you. We've been seized by the festive spirit, come and enjoy!
Put a star in Barcelona's sky
Observing the stars in winter is a much nicer experience than at other times of the year. They shine brighter, making star-gazing a truly magical moment. A spellbinding view that is harder to find in large cities because of the pollution of their sky.
Stars are the main protagonists of the first Christmas we will celebrate at Mirador torre Glòries. Until 8 January, you are invited to cover the sky of Barcelona with them in a different way. Would you like to know how?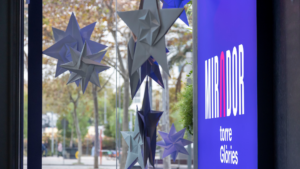 Christmas activities for children: Paper Stars with Joan Sallas
The artist and creator of the Barcelonians installation of Hyperview Barcelona, Joan Sallas, will join us for a few days to show us the art of paper folding. The craftsman and Xiaoxian Huang, are internationally renowned for their famous paper sculptures, which have become exemplary in the sector.
Through these children's workshops, exclusively created for this Christmas, you will learn to make delicate paper stars in a ten-minute session, designed for the whole family. Check the workshop times on our website and come and create your own star this Christmas.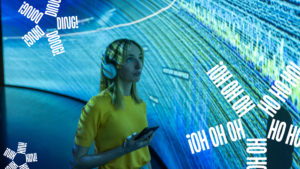 Christmas activities for the future: the Great Wish for Cities
At Christmas, every household should have a tree and nothing less could be expected of us. What is more, we've gone big. Nothing more and nothing less than a 4-metre-high paper tree crowns the 30th floor. We ask those of you who visit to write down your wish for the future of cities of the world so that together we can build the Great Wish for Cities.
And even better, those aged 0 to 17 can visit for free! Minors of all ages can enter completely free accompanied by an adult. Those who want to climb through Cloud Cities Barcelona can purchase their ticket at the ticket office. Come and walk through the clouds!
This year, the most exciting Christmas activities for children can be experienced at a height of 125 metres: we've combined crafts, art and the future to create a unique experience in Barcelona. Come up to the dome of Torre Glòries and live Christmas like never before. We look forward to seeing you!