Tickets for the 23, 24 and 25 available from 14 September
Every year, around 24 September, Barcelona dresses up to celebrate La Mercè, its Festa Major, the city's main festival. For more than 150 years, the streets have filled with tradition and performances in a festive and joyful atmosphere. A cultural explosion which, for a few days, turns Barcelona into a living showcase of popular culture.
This year, Mirador torre Glòries will be part of La Mercè for the first time and to celebrate, tickets will be available for half price. From 14 September, you can buy tickets for 23, 24 and 25 with a 50 % discount. What better way to celebrate la Festa Major, admiring the city from a height of 125 metres and observing it beyond what we see each day, thanks to the combination of art, science and new technologies which, using real-time data, allow us to understand the city as a living organism!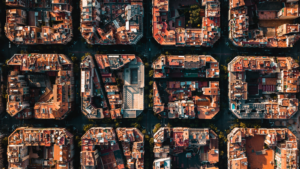 A celebration from the clouds
The 50 % discount also applies for entry to the incredible Cloud Cities Barcelona sculpture. If you're in shape, over 10 years old and would like to climb inside a work of art that is suspended at a height of 130 metres, don't miss this opportunity. Walk through the clouds and celebrate Barcelona like never before.