Visiting a city like Barcelona can be overwhelming. There is so much to see and so many places to visit, your trip to Barcelona can become stressful. If you want to make a good start to your visit to the city, choosing Mirador torre Glòries as your first port of call in the Catalan capital couldn't be better. An essential visit in Barcelona that will allow you to see the city in 360°. 
The Mirador torre Glòries experience has three parts that introduce you to the city in three different ways. You will begin with Hyperview Barcelona, where different installations combine technology and art to show you the city like never before. You will then continue up to the 30th floor of the iconic Torre Glòries, where you can see the city from a height of 125 metres. The visit concludes with Cloud Cities Barcelona, an installation suspended from the top of the dome, created by artist Tomás Saraceno.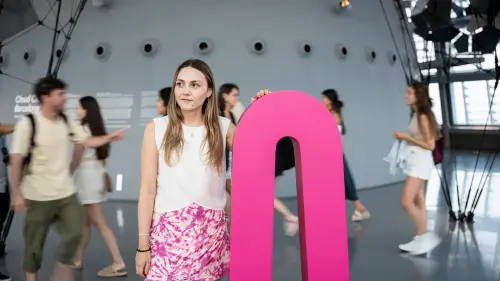 A new way of seeing Barcelona
With these three visions of Barcelona, you will understand the city as a mesh of natural, social and technological forces. This is a journey with many views from a platform that reads and amplifies the city's pulse, unique at all times, through the use of real-time data. Visitors will leave behind the typical contemplative and passive viewpoints to open the way for a new type of observatory that belongs to the latest generation of urban vantage points. A space for discovering and reflecting on how we inhabit cities today, where sustainability and the impact of humans play centre stage. The new must-visit in Barcelona! 
You will also be visiting one of the city's most iconic buildings, which has never before been open to the public: Torre Glòries. The visit begins in the entrance building next to the tower, where you will access the lower basement floor. After, you will take the lift and, in just a few seconds, arrive at the dome. 
Whether it's your first time in Barcelona or it's your home city, Mirador torre Glòries is a must-visit that you cannot miss. You will understand the city as a living ecosystem, formed by complex relationships, transactions and flows that create Barcelona's heartbeat. Come and discover the unknown side of the city!