Finding different experiences for couples in Barcelona is no easy task. That perfect plan for escaping from the daily routine is hard to find, especially if it's for enjoying the best company. No one will argue that for many of us it's one of our favourite moments. Because, what would life be without one of those special walks hand in hand? Or chatting for hours and hours while sitting on a beautiful terrace?
European cities win us over with their charm and romanticism. And Barcelona is certainly no different. Despite Paris being the great protagonist when it comes to matters of the heart, the Catalan capital hides some of the most beautiful spots where you can share a special moment with your partner. Don't miss out on the magic with the selection of plans we have for you!
Plans for couples in Barcelona to whet your appetite
Many are known to have won their partners' hearts through their stomachs. A good meal can make all the difference and turn a mediocre plan into a success. We have two delightful alternatives with options for all budgets.
As the Catalan song by Txarango goes "a la plaça Felip Neri, on els carrers hi aboquen l'encanteri" (in Plaça Felip Neri, where the streets cast their spell). This corner of the Gothic Quarter is where the date with the girl in the song begins and it is also where many others have begun. Sitting on the terrace in this square, when the evenings start to get warmer, is a real treat. Enjoy the experience of having a drink by the light of the streetlamps.
If you fancy a more intimate setting, you'll find a small place called Fragments Café in Plaça de la Concordia in the Les Corts neighbourhood. It has a courtyard full of greenery and the natural light is enchanting. And at night, the lighting creates a truly romantic atmosphere.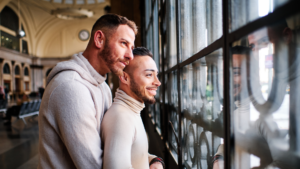 Enjoying love surrounded by nature
Nature always provides that peace and tranquillity that is harder to find in the city. For this reason, Barcelona has so many green areas, making the city a friendlier place. A date where you can connect with the flora that surrounds us is always a good option.
Among the best-known places, are the legendary Park Güell and the Laberint d'Horta park. These are two you mustn't miss if you haven't already visited them, although, at certain times of the day, they can be too crowded. If you're looking for something more private and you've already seen Barcelona's largest green spaces, the rose gardens of Parc de Cervantes or the gardens of Mirador de l'Alcalde are a great alternative.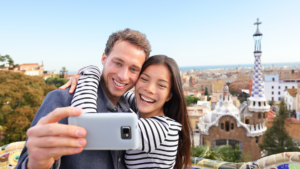 Fun plans for couples in Barcelona
There are times when an excessively romantic plan doesn't appeal and you want to connect with your partner as best friends. This is when a fun plan with laughter as the main protagonist is what you need. We recommend a film at one of the city's historic cinemas. A scary film at Cinema Maldà or Phenomena, or a comedy at Cinemes Girona or Cines Verdi.
We hope that this selection of the best plans for couples in Barcelona will help you discover different ideas for sharing a unique moment that you will always remember. Of course, we can't imagine a more romantic plan than watching the sunset from on high with the city lit up at your feet. Fall in love with Barcelona like never before at Mirador torre Glòries!