A
repertoire
of
recognitions
: Mirador torre
Glòries
stands
out
in
the
Tourism
and Culture sector
Mirador torre Glòries has been honored with the prestigious Cadena SER Award for Best User Experience at the Tourism Innovation Awards 2023. This achievement distinguishes its ability to provide an unparalleled experience to visitors immersed in an environment that combines art, science, technology, and sustainability. The awards gala took place on October 19th in Seville, where Barcelona's iconic 360° viewpoint received this recognition for its pioneering and unique character. At the same time, it demonstrates its commitment to environmental challenges and sustainability, with the aspiration to be a global reference in the reinterpretation of cities.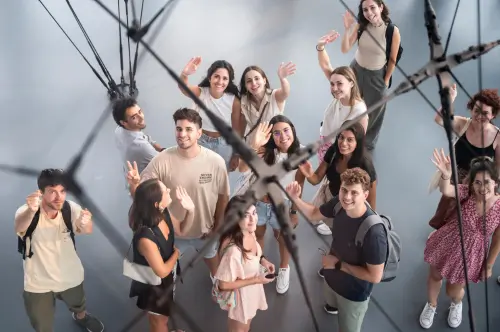 The complete experience at Mirador torre Glòries offers an unprecedented perspective of Barcelona, highlighting not only the city that everyone knows but also its less obvious aspects. This experience invites visitors to reflect on the future of the city, conceiving it as an organism in constant evolution and transformation. This impactful journey is not limited to the Mirador's facilities but lingers in the minds of visitors long after their visit.
It is the seventh award received by the Mirador torre Glòries
This seventh recognition, in just a year and a half, adds to its impressive history of awards, which includes the Award for Spain's Most Innovative Venue at the Remarkable Venue Awards 2022 (Tiqets), the Golden Dolphin in the tourism category awarded by the Cannes Corporate Media & TV Awards, the Golden Prize for Tourism Services at the International Competition JWTFF 2023 in Japan, the Special Destination Barcelona Award at the Terres CHECK-IN International Hospitality Film Award 2022, the Silver Award in the Tourism Services category at the US International Awards (CIFFT) 2023, and the Blue Danube in the category dedicated to Tourism Services at the Silver Lake Tourfilm Festival (CIFFT) 2023.