On 19 April, Mirador torre Glòries will become one of the venues for the Bachcelona Festival, a festival created to pay tribute to German composer Johann Sebastian Bach and to make his music accessible to all audiences. The concert will be held on Wednesday at 19.30 with the participation of some of the most famous international musicians and the collaboration of one of the most important cultural institutions, the Gran Teatre del Liceu of Barcelona.
The unique space of the Observation Deck's dome creates an unparalleled musical experience in Barcelona that will leave no one indifferent. From the 30th floor of Torre Glòries, a privileged watchtower, you can admire the city in every direction. Thanks to the innovation, space and acoustics of a different stage, at a height of 125 metres, the Observation Deck meets one of the characteristic components of the Bach Festival: going beyond the concert format. If you love classical music, this is an event you mustn't miss!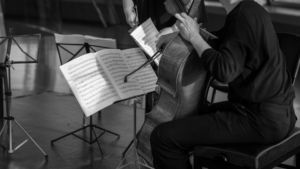 A unique concert by the String Trio of the Gran Teatre del Liceu for the Bachcelona Festival
The concert will be performed by Kai Gleusteen (violin), Albert Coronado (viola) and Oscar Alabau (cello). The piece that El Liceu's String Trio will interpret is the Goldberg Variations BWV 988 (arrangement for a string trio).
As well as holding concerts in the Catalan capital, the festival also supports musical quality, innovation and popularisation through the activities on its programme. It also organises its own grant, the Salvat Bach Grant to support young talent.
We open our doors and our ears, to the Bachcelona Festival, notching up another experience and reaffirming our commitment to culture. Here's to supporting projects that bring music and art to Barcelona!