On the upcoming 26th of August, the city of Barcelona will celebrate the start of La Vuelta 2023, one of the prominent cycling races on the international calendar. It will be the second time in history— the first being in 1962— that the Catalan capital hosts an official departure; and for this reason, the Mirador torre Glòries will illuminate its facade and create a special promotion for these days.
Global focus on sports, illumination of the Torre Glòries
On the 24th, 25th, and 26th of August, the Mirador torre Glòries will illuminate the Torre Glòries, one of the main points where La Vuelta 23 will pass through in its route through Barcelona, with a special red-colored projection featuring a bicycle: a nod to the competition and the city.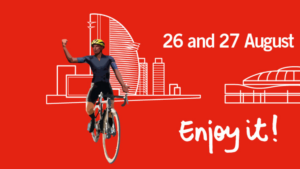 Special promotion of tickets for La Vuelta 23
Furthermore, the Mirador torre Glòries aims to combine culture and sports. To achieve this, it encourages sports enthusiasts to approach the Tower, to one of the most challenging curves of the time trial stage, from where they can watch, at street level, the passage of La Vuelta between Badajoz Street and Diagonal Avenue. Moreover, they are launching a promotion for the 26th of August: tickets to visit the Observation Deck will cost only €10. Hence, all spectators, whether they are in the area or wish to take a stroll, will be able to enjoy sports and culture at a reduced price.
The ticket purchase period will be open from the 16th of August and can be acquired on the Mirador torre Glòries website, until stocks run out or capacity is reached. Don't miss out on yours!