Years ago, few knew what Black Friday was. It sounded distant, strange and even a little mysterious. Now, however, many look forward to the date. Some consider it the kick-off of the Christmas season and make the most of Black Friday discounts to search for the ideal gift. It's the perfect occasion to begin warming up for the festive season. Find out about Black Friday discounts and take advantage of our Wow Friday! 
Like it or not, Christmas is around the corner and, for this reason, Mirador torre Glòries has a very special promotion lined up: from 24:00 on Friday 24 November to 24:00 on Sunday 26 November you can buy your tickets online with a 20 % discount. For you, your family or friends, for work colleagues, neighbours… What are you waiting for?! Get ahead of Christmas with our Black Friday discounts!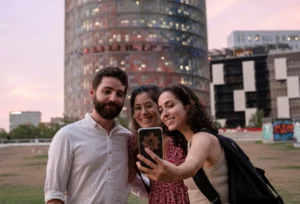 Visit Mirador torre Glòries with Black Friday discounts 
 The gift card allows the date and time slot to be selected within a year of the ticket purchase date. In other words, you buy it now and book your visit whenever you like, for the following day or 364 days later. 
You can choose from Gift Mirador torre Glòries or Gift Mirador torre Glòries + Cloud Cities Barcelona. This ticket allows the date and time for the visit to be chosen within a year. Live our Wow Friday like never before! 
And remember, this promotion is only valid for 24, 25 and 26 November 2023 on purchases of tickets, the Regala Mirador torre Glòries and/or Regala Mirador torre Glòries +
Cloud Cities Barcelona,
made through the website
www.miradortorreglories.com/en/
. Check all the conditions of purchase on the website.