Discovering the skyline of cities is an increasingly surprising plan. Getting to know an urban landscape through its profile, shape and silhouette gives you a full view of all its nooks and crannies. Not only for those who are visiting the area but also for inhabitants who want to make the most of their city. Nothing less could be expected of Barcelona and its skyline. Sea, mountain, Catalan modernism and technology come together in a unique urban plan. Can you imagine contemplating the best views of Barcelona?
Unique views, a 360° vantage point
A panoramic view of Barcelona in all directions can be yours at Mirador torre Glòries. It is an exceptional place for observing Barcelona's urban layout in 360°. The patterns of very different streets form neighbourhoods, which in the past were small villages, such as Gràcia, Horta and Sant Andreu. The perfect structure of the Eixample, designed by Ildefons Cerdà, which delimits its perimeter perfectly, won't go unnoticed. Very different areas with their own rhythm and flow, which unite to configure the life of the capital.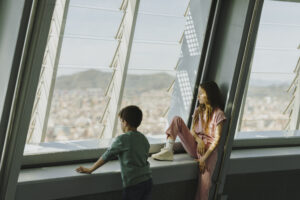 Although Mirador torre Glòries is in the centre of the city, the nature that surrounds it and makes life in the city possible doesn't go unnoticed. From the immense blue of the Mediterranean Sea to Barcelona's "green lungs": Collserola and Montjuïc. A privileged area that makes the environment a place rich in diversity.
The dome of a symbol of Barcelona
The dome of Torre Glòries, designed by Jean Nouvel, is open to the public for the first time in its history. Barcelona's new urban vantage point is inside an architectural icon of the city. Its construction was revolutionary and altered the profile of the Catalan capital for good.
The architecture of the dome also makes an impression. The transparency of its walls allows the horizon to be seen in every direction. Glass, steel and concrete are the three pillars of the design that makes an impression on all those who visit the 30th floor of Mirador torre Glòries.
The best views of Barcelona from a height of 125 metres
The height of the Observation Deck provides a panorama of the city like no other. It allows you to discover the area that surrounds the city, taking you to the horizon of Barcelona. You will be able to identify the most emblematic buildings of the city: Sagrada Família — the church (still under construction) designed by architect Gaudí —, the hotel W Barcelona, Torre Mapfre and Hotel Arts.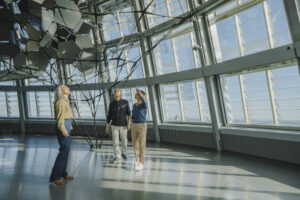 The best views of Barcelona, that only Mirador torre Glòries can offer, thanks to its privileged position as the third-highest skyscraper in the city. Come and listen to the beat of Barcelona like never before!