Following the success of Nit dels Museus, Mirador torre Glòries will participate in Estiu als Museus to offer the Cloud Cities Barcelona experience at a reduced price. When? Every Tuesday during July and August. In other words, access to the last part of your visit will be included in your general admission ticket. We're giving you a reason not to flee the city this summer. Come and climb among the clouds! Enjoy a different activity with your family and friends and live a unique experience in Barcelona.
If you have already visited Mirador torre Glòries but haven't climbed to the very top of the Torre Glòries dome, now is the time to visit us again. You will be able to discover the immersive artwork by Argentinian sculptor Tomás Saraceno for free. Don't miss this opportunity!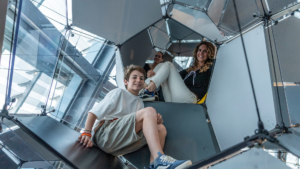 What is the
Cloud Cities Barcelona
experience?
Cloud Cities Barcelona is a walk-in artwork that can be found at the highest point of the Torre Glòries dome. You can enjoy a moment of fun and games while observing the city from a height of 130 m. A path formed by 113 cloud spaces suspended in the air, along which you can stop and contemplate the views and reflect on the future of cities.
This is the only permanent interactive sculpture by Tomás Saraceno in southern Europe. The Argentinian artist's projects converse with forms of life, always searching for a fairer balance between human, technological and biological diversities. Tomás Saraceno has permanent exhibitions and installations in some of the most important cultural institutions around the world, such as the Museo de Arte Moderno in Buenos Aires or the Metropolitan Museum of Art in New York.
It is now possible to walk through the clouds of Barcelona's sky but only at Mirador torre Glòries. A new generation of urban vantage points, which opens up the possibility of living new experiences. Come and discover it for yourself, you won't be disappointed!